U.S. Military M17 Series Gas Mask Parts
M-17 Repair and Replacement Parts and Accessories
M13 filter set, outsert eyelens, laser protection, outlet valve disks, inlet valve disks and assemblies,
M6A2 hood, waterproof bag.
This site is owned and operated by:



View Items
NOTICE:

The DOD has demanded that we cease and desist our online sales of "sensitive military equipment". The only law they could provide that supports their demand, ITAR, restricts export of certain "sensitive military equipment". We have since marked the restricted export items as "SUSPENDED"; however,

M17Mask has never exported anything; nevertheless, we have suspended our online sales of certain "sensitive military equipment" until our congressman and senators have investigated this issue for us and we have received a final determination of the proper application of ITAR (which we contend does not apply to our online activities) We expect to be offering these items online again soon.
These parts and accessories are for the M17-series gas mask.
The M17A2 is shown above. All items fit the M17A1 and the M17A2.
All items except the voicemitter cover also fit the M17 (which has no drinking tube)
One of each item shown is offered for the price unless stated otherwise in the description.
All Shipping by U.S. Postal Service
WE SHIP TO U.S. ADDRESSES ONLY!
SEE S&H DETAILS BELOW)
Price and availability subject to change without notice.
Click on item thumbnail image
to see larger image
or more information.
Thumbnails
Description
Price
U.S. Army
Small Arms Integration Book - CD


SAIB




Great gift for U.S. military small arms enthusiasts!

$12.95


4240-00-165-5026
FILTER ELEMENT SET
CHEMICAL-BIOLOGICAL MASK, M13A2
1 SET FOR ABC-M17, M17A1, AND M17A2
FIELD PROTECTIVE MASK
(1 pkg - 2 filter elements, 1 left-side and 1 right-side)
$21.95



See Notice above

M67854-90-C-0295
OUTSERT, EYELENS, LASER PROTECTION LENS
1 PAIR GREEN (NIGHT)
FOR ABC-M17, M17A1, AND M17A2
FIELD PROTECTIVE MASK
(this item provides ballistic protection also, to see details - follow image link)

$16.95
4240-00-712-6090
DISK, VALVE, OUTLET
(1 each, rubber)
FOR ABC-M17, M17A1, AND M17A2
FIELD PROTECTIVE MASK
Note: picture shows 5-each, priced quantity is 1-each!
$6.95
4240-00-893-3697
VALVE, INLET
(Assembly, 2 each)
FOR ABC-M17, M17A1, AND M17A2
FIELD PROTECTIVE MASK
Note: picture at left shows priced quantity of 2-each.
Enlarged picture shows 4 - 2 front and 2 back views.


Includes 2 inlet valves as shown - a $4.95 value!




$15.95

4240-01-104-0965
DISK, VALVE, INLET
(2 each, rubber)
FOR ABC-M17, M17A1, AND M17A2
FIELD PROTECTIVE MASK
Note: picture shows 9-each, priced quantity is 2-each!
Small quantities may be shipped via regular mail.

$5.95



4240-00-999-0420
HOOD, CHEMICAL-BIOLOGICAL, M6A2
FOR ABC-M17, M17A1, AND M17A2
FIELD PROTECTIVE MASK

$17.95



See Notice above

(SDK) 031-503-1033
DECONTAMINATION KIT, SKIN: M291
CONTENTS: SIX (6) DECON PACKETS
EACH CONTAINING 2.8 GM
AMBERGARD XE-555 DECONTAMINANT RESIN

Discontinued
4240-00-065-0319
WINTERIZATION KIT, C
BIOLOGICAL MASK: M4
FOR ABC-M17, M17A1, AND M17A2
FIELD PROTECTIVE MASK
Discontinued
4240-00-377-9401
BAG, WATERPROOF, CHEMICAL-
BIOLOGICAL MASK, M1
FOR ABC-M17, M17A1, AND M17A2
FIELD PROTECTIVE MASK
$5.95



See Notice above
Price and availability subject to change without notice.

Tracking:
(optional)

Description
Rate
Provide U.S.Postal Service Tracking Number to track delivery of your order online
$0.65


Tracking number will be sent to you when your order is shipped.

Insurance:
(optional)

| Insured Value | Rate | |
| --- | --- | --- |
| $0.01 to $50.00 | $1.30 | |
| $50.01 to $100.00 | $2.05 | |
| $100.01 to $200.00 | $2.45 | |
| $200.01 to $300.00 | $4.60 | |
| $300.01 to $400.00 | $5.50 | |
| $400.01 to $500.00 | $6.40 | |
SHIPPING & HANDLING DETAILS:

Tracking and insurance are optional.
If you want on-line package tracking or insurance for your package then add them to your cart from the table above.
A one-time "Basic Shopping Cart Handling Fee"is applied to your entire cart order when the first item is added that does not have free shipping & handling.
You may view the total shipping and handling for your order at checkout prior to submitting payment for your order.
M17-Series Chemical-Biological Mask - Information
An M17-series chemical-biological mask (Figure 1-5), when properly fitted and worn with the hood, protects against field concentrations of all known chemical and biological agents in vapor or aerosol form. Filter elements, in the cheeks of the facepiece, remove the agents from air entering the mask. When the air has a low-oxygen content, such as in tunnels or caves, or when the air has a high level of smoke mixtures, the mask will not protect the wearer. Do not use it for firefighting. It does not protect against ammonia vapors or carbon monoxide. It also is not designed for radiological protection. However, worn properly, it provides added alpha and beta dust inhalation protection, and soldiers should wear it in all known situations until the contamination is identified.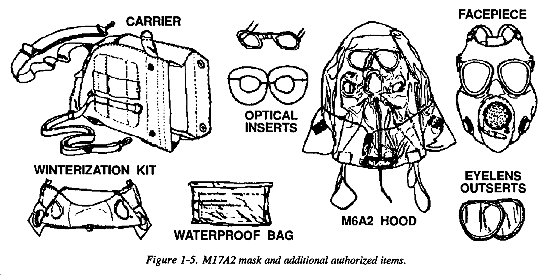 The M17A2 is the standard-A field mask. It is a modification of the M17A1 mask and has no resuscitation tube. Both masks have the following items:
A voicemitter to facilitate communication.
A tube for drinking water from the canteen while masked.
Two outserts to protect the eye lenses and to prevent fogging in low temperatures.
A carrier for storing and carrying the mask and additional authorized items. Pockets inside the carrier store such items as the nerve agent antidote kit (NAAK), Mark I, and the convulsant antidote for nerve agents (CANA). The exterior pocket of the carrier stores such items as the M1/M1A1 waterproof bag and M8 paper. The M1/M1A1 waterproof bag is used to enclose the mask to protect the filter elements from water damage. An example of use is during river-crossing operations.
Additional authorized items for use with the M17-series mask include the following:
The ABC-M6A2 field protective mask hood. The hood attaches to the M17-series mask. It protects the head and neck from chemical agent vapors or liquid droplets, biting insects, and radioactive dust particles.
The M4 mask winterization kit. Use it during cold weather conditions--lower than -20°F (-29°C)--to prevent frost accumulation on the inlet-valve caps.
Optical inserts. These are provided for soldiers who require vision correction according to AR 40-63. TMs 3-4240-279-10 and 3-4240-279-20&P give instructions on the care and maintenance of these masks.
Table 2
M17A2 masks
Size
National Stock Number
Facepiece Letter
Nosecup Letter
Extra-Small
4240-01-143-2017
XS
X
Small
4240-01-143-2018
S
M
Medium
4240-01-143-2019
M
M
Large
4240-01-143-2020
M
L